Superhighway36.com | shighway.com Tel: (660) 376 9700
We're here to help you...


Superhighway36 offers several ways to connect to the Internet including dial-up, T1, and Wireless Service. Contact us today if you are interested in upgrading your present service to a high speed option.
is the Internet service provider (ISP) solution for an impatient world. Headquartered in Marceline, Mo., Superhighway 36 has earned a reputation for outstanding customer service and its products and services. Superhighway 36 offers what every user should expect from their Internet experience: high-quality connectivity, minimal drop-offs and ISP-generated intrusions, and customizable features. Whether it's dial-up, Web hosting or Wireless Internet service or DSL, Superhighway 36 provides the tools that best let individuals use and enjoy the Internet on their own terms.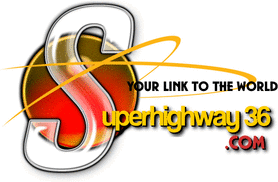 Business Hours
Mon-Fri: 9:00 am - 4:00 pm Saturday: Closed


Phone Support Hours
Mon-Fri: 9 am - 4:00 PM
(660) 376-9700

PO Box 282
Marceline, Mo. 64658
NEW MAILING ADDRESS